Two focuses of my blog are Health/Wellness and Technology. In increasingly digital world, technology will is innervated into everything. Taking advantage of these innovations may save your life or add to your quality of life. The following contributed post is entitled, Tech Tips To Make Prioritizing Your Health.
* * *
Technology plays an increasingly integral role in modern healthcare and wellness. Many of us struggle to find the time to put our health first. If this scenario sounds familiar, here are some top tech tips to make prioritizing your health and wellbeing easier.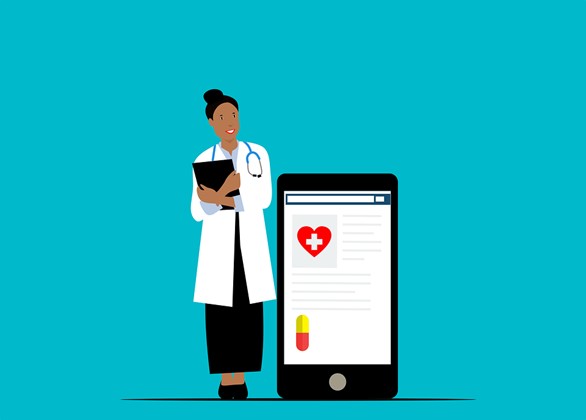 Image source: https://pixabay.com/vectors/doctor-medical-medicine-online-6727691/
Virtual consultations and appointments
During the pandemic, there has been a surge in the popularity of virtual consultations and telephone appointments. While restrictions were in place and clinics were closed or reserved for emergencies only, virtual appointments provided a safe, convenient alternative. One of the most significant benefits of virtual health services is the ease at which you can access healthcare and advice. You don't have to worry about making your way to a health center or a hospital, you can organize an appointment or call at a time that is suitable for you, and you can dial in from home or work. You can also save time and money by cutting out travel. Another advantage is reducing anxiety. Many people get nervous about going to appointments. For some, a phone or video call is much less daunting. In this case, people may be more willing to reach out and seek advice than they would if they had to attend a consultation in person.
Prescriptions and treatments
Many of us have hectic schedules. If you work full-time or you have kids, it can be tough to find the time to go to appointments and visit pharmacies or other health facilities to pick up treatments or medicines. With apps like Benecard PBF, you can save time and effort. More and more patients are using online services to order treatments and either click and collect and arrange delivery. At the touch of a button, you can manage treatments and ensure that you can start a new course or continue treatment without any hassle at all.
Activity, diet and sleep trackers
Exercise, a healthy diet and sleep are essential for optimum mental and physical health. Studies suggest that most adults don't do enough exercise or get enough sleep. Using trackers, such as wearable devices, can help you gain insight into your daily habits and identify areas for improvement. Count steps and active minutes, monitor your heart rate and see how many calories you burn in an average day. You can set targets to increase activity levels and gradually get fitter and stronger. You can also use devices and apps to keep a sleep record. If you're not getting enough sleep, try to establish a routine. Go to bed and get up at the same time every day and aim for at least 7 hours of sleep per night.
Using an app to keep an eye on your diet is also a great idea. You can keep a food diary, which can help you to gain or lose weight, improve nutrition and identify shortfalls and deficiencies. Log your meals and snacks every day and analyze the nutritional information. You may find that you're not getting enough protein or fiber, for example, or that your intake of sugar or salt is too high.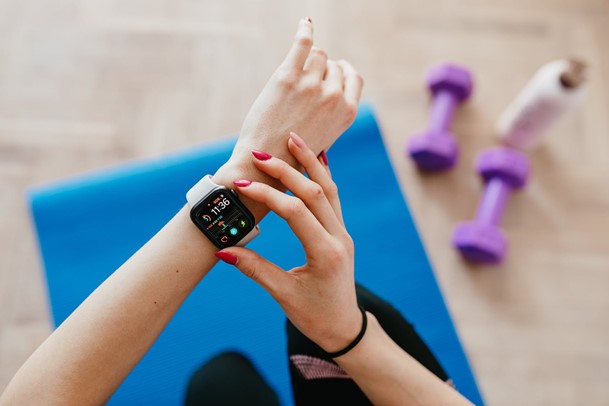 Picture from https://www.pexels.com/photo/anonymous-sportswoman-checking-smart-watch-and-sitting-on-mat-4498483/
Technology plays an influential role in modern-day healthcare. If you struggle to put your health first, why not embrace these tech tips to make life easier?