Two key focuses of my blog are Financial Literacy/Money and Home and Living Discussions. Our primary residences are the biggest purchases many people will ever make. The age of the property is a significant consideration and there can be issues with purchasing older houses. The following contributed post is entitled, 5 Problems With Buying an Old House.
* * *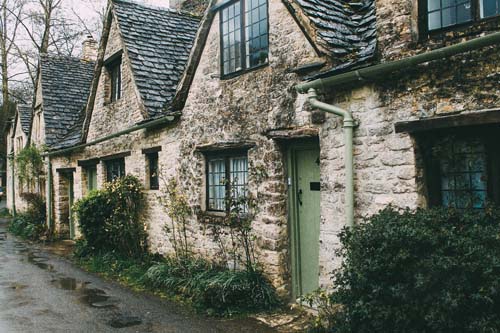 https://unsplash.com/photos/QmU_1X9ZHXo
Old homes come with a particular elegance and grace. Unlike new builds, they are filled with history and, depending on where you live, you may be the latest in a long line of inhabitants to make this house into a home. However, while many people will romanticize old homes, they come with their fair share of issues, so if you're planning on investing in an older property, you must understand what problems you might encounter.
It Is Not Energy Efficient
New homes are made to conserve and retain energy. Some homes are so good at this that you may not even know it's winter, as the insulation is so effective that it efficiently traps the heat inside. This is not the same as old houses, especially considering they do not come with double glazing and other amenities essential for conserving energy.
While this might not be much of an issue in the summer, you want to enjoy the heat; it will become a problem in winter. You might think you can counteract the chill with a wood fire or ramp the heating up, but this will make your energy bills skyrocket, which is never something you want.
It Can Be Difficult To Upgrade
If you're someone who wants to combine the traditional with the modern, it's perhaps best to wait and make sure this is possible. Old homes do not come with the convenience of newer builds, or even houses that are 10 to 20 years old.
This will make it difficult and expensive to upgrade them. For example, if you want to bring smart home technology into your house, you might be in for a surprise. Often, there is not the space to do so, and the foundations may not be as stable as you'd like them to be, which will make any upgrades challenging at best and dangerous at worst.
The Pipes May Be Rusted
Likewise, there's also the risk that the pipes have not been updated in years, which means there could be rust and decay within the walls. If you've ever owned a property before, you don't need reminding how hazardous this can be, so it's worth checking on the pipes before moving in.
There are several ways to do this. You can request an inspection to ensure the house is safe for you to live in and fit for purchase. Alternatively, you might want to look at dye tablets for leak detection, which can identify any issues later on. This approach is useful for any house, but it may be most useful for an older house with the original pipes.
The Roof Could Be Damaged
A damaged roof is another issue that you may encounter when purchasing an old house, especially if the house is close to woodland or near overhanging tree branches. Over time, these environments can cause debris to damage the roof, causing the tiles to crack or fall, and this opens up the chance for gaps in the roof.
This will impact energy efficiency, making it impossible to keep warm, and it could also cause severe issues with the house's frame. As houses are made of wood, weather damage can cause damp, and therefore rot, which will affect the house's structural integrity, which is not something you want to encounter. It could be both costly and dangerous if you do not spot the issue quickly enough.
Pests And More
If you're used to modern homes, you are going to be shocked at how easily bugs, critters, and pests can get into an old house. There are many reasons this would happen, and it usually relates to holes in the brickwork, but a damaged roof can also be inviting for them, especially during winter.
Pests and more are not something you want in your house, even if you're an animal lover. If you are scared of bugs and spiders, it can put you off purchasing an old house altogether, but you can take action to keep these pests out, so they do not make things worse. Call an exterminator to deal with termites that could affect the structure, and seal up any gaps that you find.
This Old Place
While elegant and steeped in history, an old home can come with an array of issues. With this in mind, you must ensure that you know what you're getting yourself into and whether all the repairs and upgrades will be worth it. If you decide they are, then you can enjoy a house that will soon become a home once again, as it has for many centuries before you.