Two of the focuses of my blog are Current Events and Financial Literacy/Money. As a result of this Coronavirus/Covid-19 Pandemic/Crisis, the United States government has intervened to help individuals affected by the crisis with an economic stimulus. Those receiving this economic aid need to determine how to best handle it once receiving it. The following guest post comes courtesy of Dominic LoBianco and is entitled, Financially Savvy Ways to Use Your Economic Impact Payments.
* * *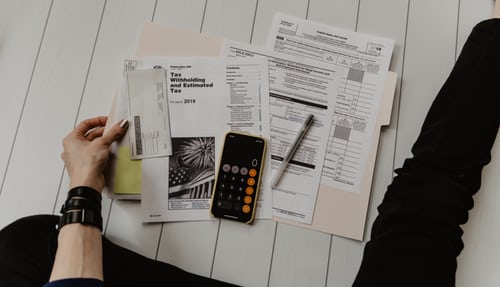 Due to the growing global pandemic of COVID-19, also referred to as the coronavirus, the federal government has taken unprecedented steps to help those who have been affected by the virus and its economic backlash.
As Congress decided to take action, they passed the Coronavirus Aid, Relief and Economic Security Act, commonly referred to as CARES. Within CARES, the federal government has provided the most comprehensive aid package for all different types of Americans.
Small Business Grants to help firms maintain payroll, and Economic Impact Payments for individuals who have been negatively impacted by the loss in work.
As more individuals file for unemployment and can no longer work, stimulus checks are beginning to roll out to any individual who qualifies. Per NPR, the restaurant industry alone cut 3 million jobs in March alone, marking a $25 billion drop in revenue.
Individuals who earned no more than $100,000 when filing their taxes in 2018-2019 qualify for a $1,200 stimulus check, and up to an additional $500 per dependent. Determining the best way to us your economic impact payment can help you to put your unexpected stimulus check to great use.
Save Your Stimulus Check
This one is obvious. Keep as much cash as you can on hand. You don't necessarily have to have physical cash accessible (although it's not a bad idea to have some stashed away), but it should be a priority to have as deep of a rainy day fund as you can.
One way to use your economic impact check in a financially savvy manner is to consider saving all of it, or at least a portion of your incoming check. Setting aside a portion of the entire stimulus check you receive to call upon in case of emergency is a smart, and savvy strategy.
Stock Up on Food and Supplies
Stocking up on additional food and supplies is another way to make great use of the economic stimulus check you receive. While it's not recommended to hoard supplies that are essential to everyone, stocking up on supplies including toilet paper, household cleaners, and even garbage bags can ensure your family is readily prepared for any future outbreak or global incident.
Stocking up on food with pantry food and non-perishable vegetables and meats is also highly advisable to remain as prepared as possible for your entire family, including any children you have in your household. If you want to avoid the grocery store, you can order dry meal replacements or equivalents online in bulk as well.
Pay Off Bills and Debt
Paying off debts and paying current bills is highly advisable for anyone who is focused on getting ahead financially and bringing down the debt they have to the names. Paying off debts can help you if you are in the process of rebuilding your credit or if you simply want to alleviate any of the payments you are required to make currently each month.
Choosing to use your economic impact payment to pay for your household bills including your mortgage or rent, your utilities, and even your cable, internet, and cell phone services can help you to remain afloat until your work and the rest of the economy is back up and running.
You can take advantage of the student loan interest forbearance as well, and pay down some of your student loan principal. That will also alleviate your future costs, as the interest that can accrue in the future will be less as you are paying it down now.
Take a Vacation
Once the COVID-19 pandemic has slowed and is under complete and total control, you may want to consider taking a vacation with your loved ones or your entire family. Getting out in the fresh air, exploring the world, and spending time with those who mean the most can be extremely beneficial mentally and emotionally once the quarantine orders have been lifted throughout the country and throughout the rest of the world.
Not to mention if you decide to book a trip now, you can take a trip for a fraction of the traditional cost. Airlines are running specials to help bring in revenue, and it includes discounts on all facets of your trip (air fare, hotel, car rental, etc.).
Save for a Home or a Car Down Payment
If you are free from debts or if you are simply looking to make a bigger change in your life, consider setting aside your stimulus check to put towards a car down payment or even a home you are interested in purchasing. Whether you have big dreams of owning your own home or if you are in need of a new vehicle, you can use your economic impact payment to ensure you receive a long-term benefit for your investment.
Not only does it fulfill an immediate need in your life, but it can improve your long term financial standing in the future as well. Not only are you setting yourself up for success now, but your also bolstering your credit rating for potential future purchases.
Dabble in New Hobbies
This step is only recommended if you feel secure in your income and already have money stashed away. However, if that is the case, exploring new hobbies, activities, or skills you have wanted to pursue is a great way to keep yourself busy.
After all, you may never have as much downtime as you do right now, and what better way to spend that time than by refining your skillset or diversifying your talents. Learning about new hobbies and spending time honing your skills can help you to maintain a sense of purpose while also providing you with a uniquely rewarding and personal experience.
The more hobbies and activities you have to keep yourself from feeling bored and despondent from the outside world, the easier it will become to cope with quarantine and learning how to live with your own company, even during tough times.
Whether you are currently in need of your economic impact payment to help with bills, your mortgage, and even groceries, or if you simply intend to put your stimulus check directly back into the economy, there are many ways you can do so in just about any situation. With a bit of brainstorming and financial calculating, determine the best way for you to put your stimulus check to work for you.
Dominic LoBianco is a guest contributor on behalf of Newroadsautoloans.com. Dominic has been a writer for six years and has worked across several industries from professional sports, to automotive repair and everything in between.