The first principle of my blog is Creating Ecosystems of Success and a key focus is Blogging and Writing. Blogging and can be a fun adventure for those who choose to explore it. There are some key pieces to consider when starting to write, and before launching off into this area. The following contributed post is entitled, Find Your Voice in The Blogosphere.
* * *
You read them all the time, you know that they're attached to the sites of many business websites but write a blog for yourself? Why would you? Blogs are what travelling twenty-somethings do or lifestylers write about. How could a blog possibly help your business out?
It's a great question and one that we're going to explore in this…blog. We'll also take a look at what makes a great blog and what makes a bad one. Read on to discover why your voice is important and how to showcase it to work better for your business.
Read Around
You may have a list of your go-to bloggers that tick all the boxes when it comes to what you read online. If you have a particular hobby then no doubt you've discovered a blogger who is informative, interesting and whose stories you follow for top tips, advice and discussion.
When you're looking for specific advice you might use a Google search and find plenty of results that point you towards blogs as well as official websites for organisations.
Take a look at some of the websites you regularly visit and in particular any blogs that you enjoy. Ask yourself what it is about these blogs that make it worth your while coming back to again and again?
You'll probably decide it's a mix of great writing style, up to date and relevant content and something that makes it visually appealing. There may be more features but for now we'll concentrate on these three.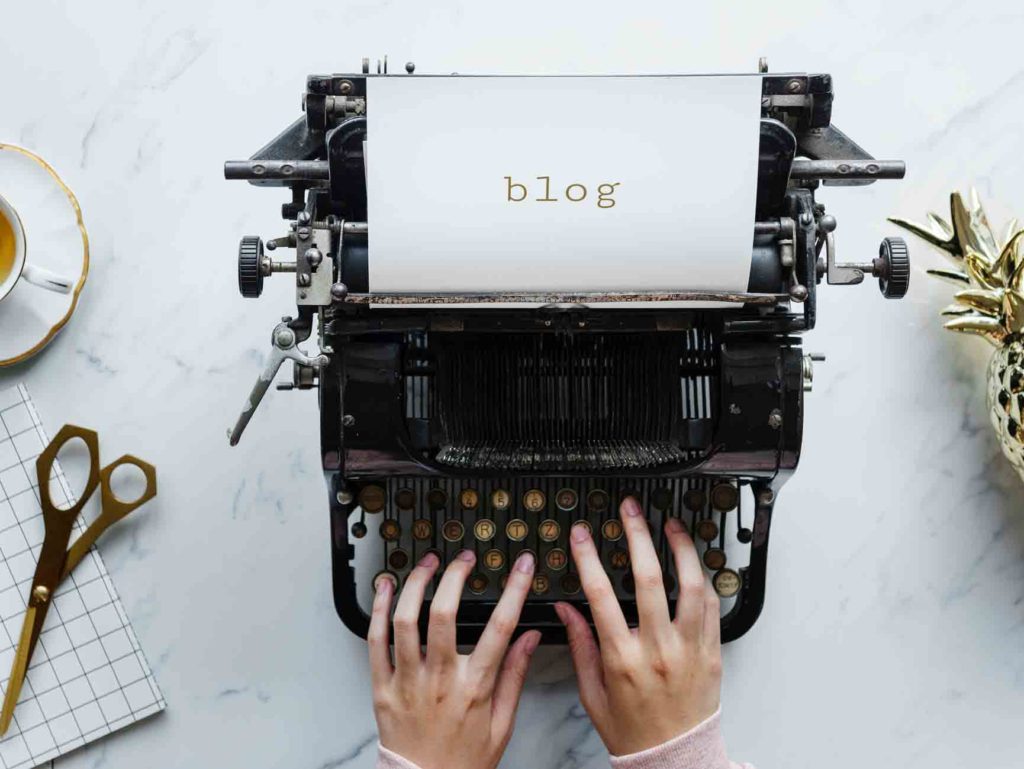 Image from Pexels
Writing Style
Your business blog is your opportunity to have your voice heard in your industry. This voice has to be your authentic self and it has to show authority and knowledge while being able to connect with the human touch. Think about your style as you begin to write. Focus on sounding authoritative but delivering that message in the way you would talk to a colleague, friendly and in a non-patronising manner.
It can take a while to get this style down properly, so have a friend read over your first few attempts. Don't worry about the content for now, just write about something you know and see if you've got the tone down pat.
You may have heard about SEO writing and keywords. If you are trying to fit keywords into your blog then you must make them sound natural. One thing that is guaranteed to knock your writing style off kilter is a blog that sounds unnatural and forced so be careful about how you use them and if necessary just stick to writing without SEO formats in mind.
Content
Whoever said content was king was quite right. This is where the war is won or lost. With up to date and relevant content you are going to attract your reader and have them coming back for more. If you're writing about your business, try and think a little outside of the box. There are only so many times you can tell your customer how great your product is so think about taking it down to a more personal level. How did you get into your line of business? What's your background? Personalising your blog helps people better connect to you and to your product.
Keep your content updated weekly, do not let it drift and make sure you're writing around 1,000 words to create a blog that looks serious, engaging and that is worth reading.
Remember The Visuals
You may not need to go down the route of 3D rendering from your blog, thanks to www.gswanimation.com but making sure your blog looks good is vital. A wall of text is simply going to put off a lot of people but great images, an embedded video and so on are what turns good blogs into great blogs. It shows that you take your communication with your customer seriously. That you want to engage with them at the highest level and provide them with information about you and your business that is accessible, informative and simply a good read.
Take your blog to the next level and your business will soon follow. Blog for yourself, blog for your business and get talking to your customers. Find your style, fill your blog with content that sparkles and images that attract your customer to a blog that looks great as well as reads great.
Blogging isn't just for everyone else, it's for you too. Find your voice today and get that blog underway.