Two of the focuses of my blog are Athletics and Sports, and Health and Wellness. While the martial arts are competitive sports, they also help personal wellness, both physically and mentally. In some instances, it's very valuable to know how to handle oneself in the streets should danger arise. The following contributed post is thus entitled; Mean Streets: Protecting Yourself While Out & About.
* * *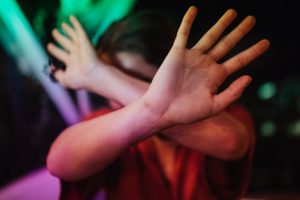 (Image Source)
While it isn't exactly fair, a lot of people don't feel safe when they are walking around in their home cities and neighborhoods. With violent crime on the rise in a lot of places, along with populations getting much greater, it makes sense that you might want to figure out some ways to keep yourself protected. Of course, though, handling this sort of process correctly can be incredibly hard. To help you out, this post will be exploring some of the best ways to protect yourself on the mean streets, while also making sure that you don't break the law in the process.
Self-Defense: A lot of people think that carrying a weapon is the best way to keep on top of their need for self-defense. In reality, though, most weapons which can be effective are illegal to carry around without cause, and they can easily be turned against you if you make a mistake while using them. To overcome this issue, learning how to protect yourself by using your body can be a great route to take. Martial arts are great for this, as they will give you the chance to learn how to fight properly, while also keeping your fit and avoiding any risk of hurting someone too much. Options like Judo are perfect when you're first starting out.
Situational Awareness: Being aware of what is going on around you is another good idea when you're trying to protect yourself. A lot of people ignore the things around them, choosing to remain oblivious to the risks around them. This goes much further than gangs of youths and other scary people, though, with things like cars posing a big threat, too. Thankfully, to help with this, there are loads of courses out there which can be taken to help you to become more aware of your surroundings. A big part of self-defense is avoiding a fight in the first place.
Legal Support: Finally, as the last area to consider, it's time to think about what you need to do if you ever find your protection failing, and need to take action against someone who has hurt you. Criminal justice, personal injury, and pedestrian accident attorneys can be found all over the world. Professionals like this will be able to fight on your behalf if you ever find yourself in need of legal support. To find the best options in your area, it will be worth reading some reviews, as different lawyers will have different levels of success in the areas which they work.
Hopefully, this post will inspire you to start working harder on the time you put into protecting yourself in the modern world. It's a shame that people have to take this sort of action to feel safe, but this doesn't mean that it isn't worth doing. In time, places slowly get more and more peaceful, especially when political discord settles down. This means that it may only be a matter of years until you are able to confidently go about your business without these precautions in place.