Some of the key focuses of my blog are: Financial Literacy, Wealth Building, Business and Entrepreneurship. A significant number of businesses fail within the first five years of their being started – something all entrepreneurs should understand when starting their businesses. To be successful however, each must overcome the fear of their business failing. The following contributed post is thus entitled; Overcoming The Fear of Business Failure.
* * *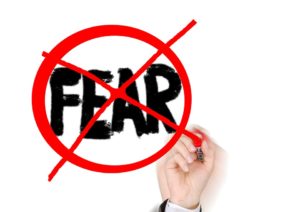 Ask a would-be entrepreneur why they haven't started out in business yet, and chances are, you will receive one simple answer.
"I am afraid of failure."
You don't need to ask why they are afraid of failure, as this is something many of us feel in varying aspects of our lives. We are afraid of failing in marriage, education, and in our careers, as examples. But if you did ask the would-be entrepreneur why they were afraid of failure, they may answer in this way,
"Statistically, I am destined to fail."
And this is true, according to statistics, the possibility of failure is relatively high. It's little wonder, then, that many people don't risk starting a business, despite the opportunity to escape the rat race of the 9 to 5.
But here's the thing. While there is the risk of failure, there is also the possibility of success. There needs to be a change in attitude; a shift from fear to courage. Sometimes, the risk is worth it, as business failure is not always on the cards. It's about turning fearful mindsets around; finding ways to bring a positive outlook to negative thinking.
So, what about you? Do you run a business, or have you taken the decision not to because the fear of failure has gotten the better of you? Aside from statistics, you may not have started out on your own because of the following reasons.
"I'm not good enough."
Nobody's perfect, so it's unlikely you will be good at everything. But you can still improve matters. Look at areas where you are weakest, and rather than let these things undermine the possibility of you succeeding, conquer them. If you suck at all things money-related, hire an accountant or take a money course. Don't know how to put together a decent business website? Hire a web designer or take HTML Training classes. Whatever your weakness, you can overcome it, whether that's through outsourcing or building up your skill set. You're not perfect, but then again, you don't have to be!
"It's a one-way ticket to poverty."
Giving up your full-time job is a risk, so you may not want to begin something that could be a financial disaster. However, there are at least three ways to defeat this. For starters, don't give up your job just yet. If you are reliant on the income from your career, begin your business, but start slowly. When profits do start coming in, only then consider resigning from your job. Secondly, do all you can to market your business to ensure customers know about you. Focus on branding, send the word out on social media, and broadcast your business in other places online, as well as talking about it to others offline. Lastly, know that many businesses struggle to make a profit within the first year, but this is why it's important to find ways to cut costs in those early days. Financial wisdom is key, so don't overspend and don't splurge your cash reserves on anything you don't need. This way, you will reduce the risk of financial collapse.
Something to think about.
Here's something to think about if you do relate to the above. While you may face failure, you might also succeed. Statistically, many businesses don't fail, so it may not happen to you at all. As we have said, planning is key, focussing on both your skills and your finances. And there are people to help you deal with any area where you may struggle. Surely then, it is worth the risk. You will never get anywhere if you don't try, and you may later regret it if you don't. Provided you don't do anything dumb, there is every possibility that you will make it in business. And if you do screw up? Well, at least you tried, and that's better than not trying at all.
Are you afraid of starting your own business? Consider our advice and think again. It may be a wise decision not to start out on your own, but then again, it could be the best decision you will ever make!