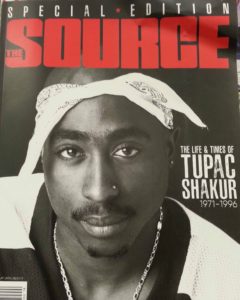 I was originally going to write my next movie review on Spider-Man: Homecoming, but All Eyez on Me came out of nowhere. I first saw the trailer a couple of weeks ago, when going to see Alien: Covenant. I saw the movie shortly after it was released, and subsequently felt compelled to write something about it.
All Eyez on Me starred Demetrius Shipp Jr. who played the late and legendary Hip Hop recording artist/actor Tupac Shakur. I immediately thought Shipp was a spitting image of Shakur when I first saw the trailer, and he didn't disappoint in the film. Shipp masterfully captured Tupac not only in terms of looks, but also in terms of verbal and non-verbal communication, and even in the way Shakur bobbed around dancing in his music videos, and in the recording studios.
Similar to Straight Outta Compton, the movie tracked Shakur's early life – going back to his pre-teen years starting with his mother's membership in the Black Panther Party. It further showed his family's move to Baltimore, and then his initial move to the west coast. It touched upon his friendship with Jada Pinkett-Smith – a source of controversy as Pinkett-Smith subsequently released a statement saying that the movie wasn't entirely factual content-wise.
All Eyez on Me further chronicled Tupac's ascension to stardom first in music and then on the movie screen in addition to the problems that riddled his life and career. Similar to many Hip Hop artists, his career was mired by money issues in addition to violence which ultimately ended his life in 1996 while signed with Suge Knight's Death Row Records. Similar to most artistic geniuses, he was taken from the world early just as he was on the cusp of going to his next creative level and expanding into other areas; record label ownership and screenwriting projects similar to Ice Cube.
While my favorite all time Hip Hop group is Gang-Starr, my interest in Tupac changed over the years. I was very much a fan of Digital Underground as a young teen and didn't know he was actually a part of that group until he released "Brenda's Got a Baby" – a more socially conscious track than most of what the Underground had produced. I took a liking to his track "If My Homie Calls", and even bought a copy of his record "Strictly 4 My NIGGAZ". I followed him from a distance as he blew up in movies, and then started to hear about his run ins with the police, the rape charge which put him in jail, and finally when he got swept up into the center of the East Coast-West Coast Feud which arguably took down both him and the Notorious BIG.
Simply put, Tupac was genius. His music embodied the anti-police and black power themes of the Black Panther Party while at the same time telling the stories of young black men in the inner cities. He released conflicting tracks like: "I Get Around", "Keep Ya Head Up", and then "Dear Momma" – a source of jokes at the time. The track that really grabbed me though was the solemn and dark, "So Many Tears" which he released when he was in jail and reflecting on his life. He used a double in the video who wore his signature bandana and loose fitting clothing. My favorite track he created once he joined Death Row Records was "Gangsta Party" where he teamed up with Snoop Dogg.
In the mid-1990s as an undergraduate, I interestingly took a liking to Smooth Jazz. As a whole I pulled back from the Hip Hop scene. A bit of a bookworm at the time, I didn't particularly understand Tupac's glorification of the "THUG" lifestyle and what it represented though I still respected his articstic brilliance and felt the pain and loss of his death – still unsolved to this day similar to that of the Notorious BIG who was also murdered shortly afterwards.
I would recommend seeing All Eyez on Me. The movie embodied a couple of the principles of my blog; empowering others and teaching others how to succeed – sometimes by teaching what not to do. The movie showed the complexity of Tupac's life, and similar to Straight Outta Compton, it showed the importance of choices, and being in control of one's financial destiny – something many recording artists of that era grappled with. Also similar to Straight Outta Compton, if you listened to Hip Hop music in the early 1990s, you'll find yourself singing along, nodding you're head, and bouncing your arms up and down in the theater. You'll also recognize signature scenes from movies like Juice, and Above the Rim which Tupac starred in. Hill Harper plays a prominent role in the film, interviewing Tupac from jail. Interestingly, the actor who played Notorious BIG (Jamal Woolard) in the movie Notorious, reprised his role in this film, though all new actors were used for the prominent members of Death Row Records. There was also a cameo by NFL wide receiver Desean Jackson.
If you've found value here and think it would benefit others, please share it and/or leave a comment. I've recently started a YouTube channel, so please visit me at Big Discussions76. To receive all the most up to date content from the Big Words Blog Site, subscribe using the subscription box in the right-hand column in this post and throughout the site, or add my RSS feed to your feedreader. You can follow me on the Big Words Blog Site Facebook page, and Twitter at @BWArePowerful. Lastly, you can follow me on Instagram at @anwaryusef76. While my main areas of focus are Education, STEM and Financial Literacy, there are other blogs/sites I endorse which can be found on that particular page of my site.