Some of the key focuses of my blog are Financial Literacy, Wealth Building, Business and Entrepreneurship. Many businesses and services involve the use of uniforms as a form of branding and image. The following contributed post is thus entitled, Why Have A Company Uniform?
* * *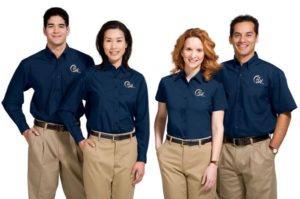 Company uniforms can have a number of benefits. Here are just a few reasons to consider adopting a uniform for your business.
It can make you look more professional
Uniforms can ensure that you and all your staff keep up a professional appearance. Whilst some companies like to introduce a dress code, it's often easy to bend the rules – the line between smart and casual can easily be blurred. With a dress code there's little leeway to do this and you can have more control over the level of formality.
It promotes equality
By making your employees dress the same way, you can help to build a sense of equality and unity. Fashion after all can sometimes create a social hierarchy with people judging each other based on dress sense. Having a uniform forces everyone to be on the same level creating a greater sense of equality.
It can save employees money
By having to wear a uniform, employees won't feel as pressured to dress differently each day and therefore won't feel the need to keep buying as many clothes. This could save your employees money in some cases. When supplying a uniform, make sure that it is free for your employees – you should only ever charge money if somebody keeps losing part of their uniform.
You can use it to promote your brand
A uniform can be a good form of branding in some cases. You can look into making your own shirt with a company logo on it. Other options could include branded overalls, branded blazers or branded aprons. Branding will help to build awareness of your company and add to your overall brand consistency. It could even be a form of advertising, helping to bring in new business.
It can help clients identify staff
If everyone is dressing in casual clothes, it can sometimes be difficult for clients to identify who is a staff member and who isn't. A uniform makes it easier to immediately tell who is staff and who is a customer. You can also use varying colours or designs to single out management staff so that customers who want to speak to someone higher know who to talk to.
It can be used to enforce health and safety
In some jobs, a uniform could also be used to help enforce health and safety. The most obvious example of this is the construction trade in which hard hats, hi-vis jackets and gloves all help to protect staff members from harm. Uniforms can have a similar function in other roles – in medical and cooking roles, short sleeves are now often favoured because they don't get in the way. Consider ways in which you could integrate health and safety into your uniform.
If you take a look at workers compensation laws, you will see that PPE is something that is discussed a lot. A lack of PPE is one of the main reasons for injuries and subsequent compensation claims. Of course, if a worker has failed to use PPE in the way they are directed to, the fault would then fall onto their shoulders. Nevertheless, it is critical to understand how uniform plays a key role in terms of health and safety.