A key focus of my blog is Health/Wellness. They say that one's dental health often be a predictor of their overall health. That goes for appearance as well as function. The following contributed post is entitled, How To Find The Right Type Of Cosmetic Dentistry For You.
* * *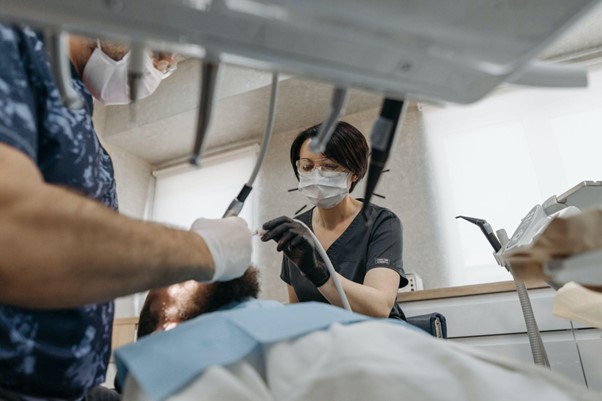 Cosmetic dentistry is a branch of dentistry that improves the appearance of your smile. Cosmetic dentists use various techniques to enhance the appearance of a person's teeth, gums, and mouth. Whether you have crooked teeth, stained or missing teeth, or want to update your smile with new dental crowns or veneers, there are many ways cosmetic dentistry can help you achieve the smile you desire. Whether you want bright white teeth or to change their color for personal reasons, cosmetic dentistry can help. Read on to learn more about the different types of cosmetic dentistry and how they can give you the smile of your dreams.
Dental Crowns
A dental crown is a custom-made cap that encases and protects a decaying tooth. It's typically used to strengthen a tooth that has been damaged by decay, disease, or injury. Crowns are also used to change the shape or color of a tooth. A dental crown can change the shape of your teeth to improve the fit with your other teeth. For example, if you have one tooth that sticks out too much, a dental crown can be used to push that tooth back into its normal position. Another reason for a dental crown is color matching. Crowns can be used to change the color of a tooth that is discolored or stained. For example, a crown can be given to change the color if you have a dark tooth that cannot be whitened. A dental crown can also be used to correct an injury or change the length of a tooth.
Veneers
There are many reasons why cosmetic dentistry may suggest veneers as a treatment option. Veneers are thin pieces of porcelain or resin bonded to a tooth's surface to improve its color, shape, and length. If you have teeth that are shorter than usual or are uneven, veneers can be used to correct this. Veneers can also be used to whiten teeth. If you have teeth that are stained, veneers can be used to cover the stains and give you a whiter smile. Veneers can also be used to change the shape of teeth, such as to make them longer or to fix crowded teeth. Veneers are semi-permanent, and the lifespan of porcelain dental veneers lasts from five to fifteen years.
Braces
Braces are a treatment option that uses metal or elastomeric bands to shift teeth and realign them into their proper places slowly. Braces are mainly used for adults with out-of-whack teeth who want to get their teeth realigned. They are also suitable for minor orthodontic issues such as spacing between the teeth and the misalignment of the teeth. Braces are usually recommended when orthodontic treatment is required. However, they are a more invasive way of treating orthodontic issues.
Teeth Whitening
Teeth whitening is a great way to improve your smile dramatically. Teeth whitening can remove stains caused by things like coffee, cigarettes, red wine, and other teeth-staining agents. You can have teeth whitening done at your dentist's office, or you can do it yourself at home. Teeth whitening can be done with either a dental professional or at home.
Bridges
Teeth bridges replace missing teeth and provide continued support for other teeth. Bridges are made up of artificial teeth or crowns and a bar connecting the teeth. If one or more of your teeth are missing, a bridge can be used to replace those teeth and restore your smile. Bridges are a great way to replace missing teeth because they do not disrupt surrounding teeth or cause the gums to recede. However, they are more expensive than dental implants and tooth implants, which are other ways to replace missing teeth.