Two major focuses of my blog are Financial Literacy/Money, and Wealth Building. A key part of both of these areas is budgeting, planning and controlling costs. The following contributed post is thus entitled; How To Beat The High Co$t of Living.
* * *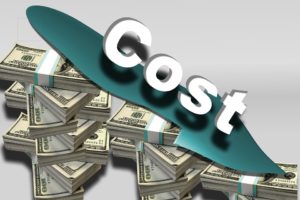 Another day, another bill. Another day, another dip in the bank balance. Another day, another moment when you wonder how you are going to cope with the rise in energy prices, bank charges, insurance costs, and more.
Rather than confront another day like yesterday, we wouldn't be surprised if you huddled under your duvet in the morning, fearful of losing yet more money simply by going about your daily life.
Don't despair! It is possible to beat the high cost of living, but you are going to have to work at it. You can put the ideas we give you in this article into your five-year plan, or better yet, your yearly planner. You see, you don't have to let the financial aspects of your life get on top of you.
For starters, quit those bad habits that are eating away at your monthly income. Not only will you have more money in your pocket, but you will feel better as well. We are thinking of smoking and drinking alcohol, two expensive habits that are harmful to your health. We are thinking about watching too much tv; despite the many wonderful things to watch (and the utter drivel), you will save on your electricity bill if you spend time doing other things, such as (dare we say it), exercise! And quit your spending addiction. If you're forever buying things you don't need, then it's little wonder you have no money for the essentials in your life. Put that credit card away!
Don't let your utility companies take more money than they should. They are forever putting their prices up, but you are in your right to ditch them. You can get the same gas and electricity from another supplier, so use a price comparison service to find a cheaper deal. After switching, instill good habits around the home to make further energy savings. We have already told you to stop watching so much tv, but there are further ways to save money. Ensure your family are up to speed with your energy-saving habits as well, because as you know, they can often be responsible for draining your bank account!
Cut down the cost of driving too. For starters, don't use your car if you are only travelling short distances. Why waste money on fuel when you can save money (and feel healthier) by using your two legs. As with your utility companies, use a price comparison site to save on your insurance. We use this site, https://cheapautoinsurance.co, but there are there are plenty of others available. Then practice safe driving. You see, the less reckless you are on the road, the less likely you are to do damage to your vehicle, and the less likely you are to pay out on huge maintenance bills. Driving safely saves money on fuel too!
Don't let your bank take you for a ride. If they are charging you monthly fees just for having an account with them, it's hardly fair! As with some of the other things on this list, you can do yourself a favour by ditching those banks who are inflicting damage on your account and transferring to another. You should be able to find lower rates and fees, and may even get rewarded for making the switch too. Check out this banking guide as a way to make the most of your money.
You can beat the high cost of living by making changes in your life, and by doing your homework into finding cheaper alternatives to the people who take your money away from you. So, don't delay, start to make savings today, and continue to practice good habits and price comparisons in the months and years to come. It does make perfect financial sense, after all!