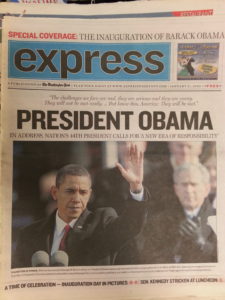 The following piece was originally published on the Examiner back in October of 2013 during my very first government shutdown as a federal employee. It was followed by another piece which I also recently republished titled The myth of the stability of being a government employee revisited. Five years later after our most recent three-day government shutdown, and with another potential one on the way, I thought it would be appropriate to republish it.
The reality is that regardless of one's position on something like the Deferred Action on Childhood Arrivals policy (DACA), there are many, many government employees who have bills to pay and can't afford the uncertainty of having a prolonged break in their income. This piece captured some of the rumblings of those around me leading up to, and during the time we were sent home for two weeks. It turned out to be a paid vacation as we were reimbursed for those two weeks, and 'Obamacare' was eventually signed into law – at least for the time being.
* * *
By the time this article goes up, the 2013 government shutdown may be over, or it may still be in effect. No one knows except our elected officials. In the meantime, when writing up the piece about The myth of the stability of being a government employee, the idea recently came to me to capture some of the reactions and sentiments of friends and colleagues in the federal government before and during the shutdown. The following are samples of quotes and reactions to the shutdown from people in my circle.
"All we can tell you is to watch the news. We don't know when this will be over," our supervisors and managers told us leading up the shutdown and then on the day we when we went through our shutdown protocols. We all knew that the government shutdown might be coming months in advance so all of this wasn't a big surprise, though leaving my workplace that last time not knowing when I would return was a sobering feeling.
"We got reimbursed back in 1995 after the Clinton-Gingrich shutdown, but it's not guaranteed that we'll get it this time. It's actually not looking good," a seasoned coworker said days before the shutdown with a look of fear on his face from potentially losing the pay. It was with good reason too as our bills would continue rolling in even as our paychecks froze.
Immediately after the shutdown went into effect, many federal employees took it hard. While many were worried about the financial pinch, many workers actually found fulfillment in their work, and were upset that they couldn't work simply because of lack of agreement by our elected officials. Some even became skeptical about continuing to work for the federal government.
"This sucks," a coworker text-messaged me the morning of Oct. 2, the day immediately after the start of the shutdown. In later messages over the course of the shutdown, his frustrations continued saying, "I'm going to keep my options open employment-wise. It's just going to get more difficult in the government – more work, lower pay (furloughs), no promotions, on top of the usual politics."
"When my federal job got shutdown, I knew that I was just go and spend time at my other jobs," a friend who has his hand in a number of community service and other projects outside of work peacefully stated. While many federal workers were crushed about not being able to go to work, others saw it as opportunity to invest their time in other projects.
"We might get shutdown, but we'll be back to work eventually. In the meantime, those who have savings will be okay, and those who don't will scramble to find the money to buy a bag of potato chips. It'll be okay." Prior to the start of the government shutdown, some colleagues weren't worried about it at all. An unconcerned seasoned coworker who was savvy about money and investing smiled and told talked with me about the shutdown in a very carefree way.
Some retired federal employees looked at the current situation with fond memories of previous shutdowns, and made observations about the spending habits of and mentalities of the younger generations of federal employees.
"We never worried about the government shutdowns. We just relaxed and enjoyed the time off," a retired federal employee laughingly said at an alumni association executive board meeting I'm involved with. "We were a different generation though. We had money saved up and could thus survive. People in the younger generations don't live like we did and are in real trouble right now. They're going paycheck to paycheck."
"I'm filing for unemployment," a disgusted coworker said walking from the printer the day of the shutdown, when we had to go into the office and officially close down our work stations. He continued, "The director just sent this certificate to all of us. I recommend you print it off and do the same thing."
About a week later, my unemployment papers were put in the mail as well. Other federal employees congregated around the city to take advantage of the free specials offered by local restaurants. We all watched the news everyday wondering when our elected officials would make some sort of agreement and reopen the federal government.
Thank you for taking the time to read this blog post. In you enjoyed this post you might also enjoy:
If you've found value here and think it would benefit others, please share it and or leave a comment. To receive all of the most up to date content from the Big Words Blog Site, subscribe using the subscription box in the right hand column in this post and throughout the site. Lastly follow me at the Big Words Blog Site Facebook page, on Twitter at @BWArePowerful, and on Instagram at @anwaryusef76. While my main areas of focus are Education, STEM and Financial Literacy, there are other blogs/sites I endorse which can be found on that particular page of my site.