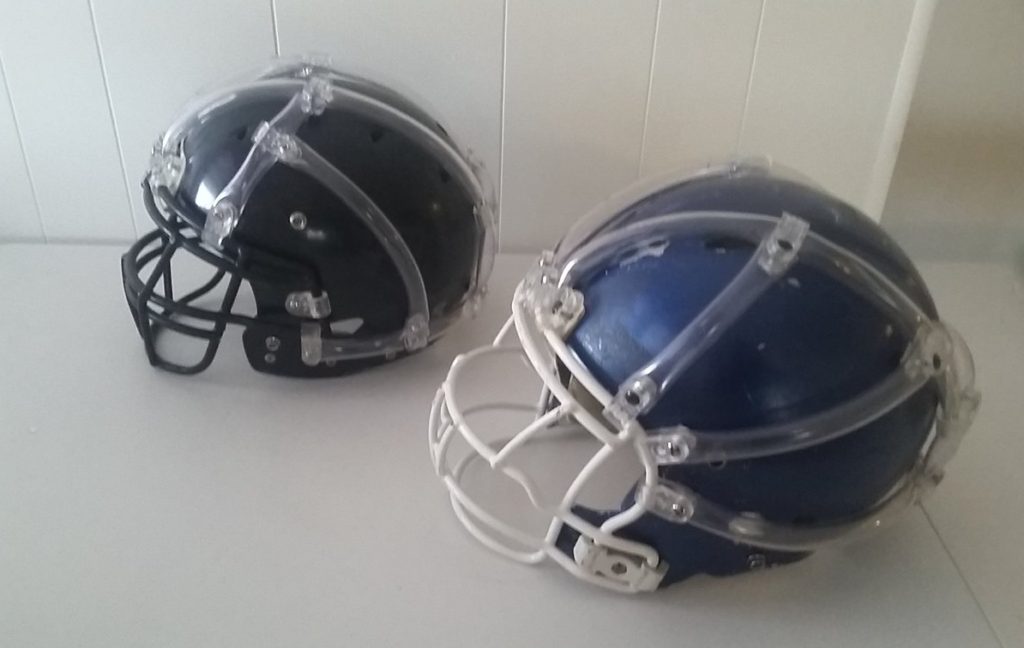 While one of the purposes for the Science, Technology, Engineering, and Mathematics (STEM) fields is the pursuit of new knowledge, a second purpose is to use that knowledge to create new innovations and products to improve our lives. Likewise, while one of the goals of my blog is advocacy of STEM awareness, a second goal is to use my platform to give exposure to others and their own projects. The following interview – the first of its kind on my blog accomplishes both goals, and it aligns with one of the principles of my blog which I haven't discussed much up to this point; Creative Thought. Creative Thought is a key component of all the innovations that have emerged from the STEM fields that have changed the world.
Over the past couple of years, inventor Amahl Dunbar has worked on an invention to increase the safety of football helmets; the "Helmet Tubing Impact System" (HTIS). He recently agreed to the following interview to give the world a glimpse of the HTIS, to introduce his new idea, and his goals for it going forward. The pictures used in this post of the HTIS attached to football helmets were graciously shared by Amahl Dunbar himself.
Anwar Dunbar: Hello, Amahl. Thank you for agreeing to talk about your new system for making football helmets more protective. As my brother, I know who you are and what you've been doing. For the readers though, talk a little bit about your background. Haven't you always been a 'design and build' type of guy?
Amahl Dunbar: Yes. Around the time I was in the third or fourth grade, I enjoyed using hand-held tools to disassemble and re-assemble my toys. My "Transformers" toys were very complex in terms of design. They were an endless puzzle of hinge, sliding, and ball joints. Usually I'd have everything reassembled before our mother got home from work. In parallel with those experiences, I began to do the same process with my bikes, though when it came to bikes, the stakes were higher because a bike could fall apart while in motion. Over all, I have more years of experience learning the visual arts versus engineering or product development.
Anwar: At Hutch-Tech High School, didn't you major in Architecture?
Amahl: Yes, I had dreams of an office-oriented career. Architecture is more of a 'design studio' career. During high school my understanding of Architecture was limited. I thought it was just good to design. Years later, I learned the best forms of Architecture involved designing and customizing around the lifestyle of the occupants.
Anwar: How did you come up with the idea for the HTIS?
Amahl: The idea for this invention came to me while watching an NFL game during the 2014 or 2015 season. A highly valued player for the Buffalo Bills took a bad helmet-to-helmet collision. As I watched this player writhing in pain, it occurred to me that the standard helmet is as much a weapon as it is a system of protection. Also, I thought the sound of a helmet to helmet hit may be damaging to players as well. Imagine being inside of a large speaker when it receives sudden microphone feedback or static. The sound would be jarring, disorienting, and unpleasant.
Anwar: What makes your system unique from what's currently on the market?
Amahl: The Helmet Tubing Impact System (HTIS) is lighter than similar exterior helmet products. It distributes forces 'longitudinally' versus absorbing or muffling direct strikes. The tubes are transparent, so team colors and logos stay visible.
Anwar: Are you referring to something like the "Gazoo" helmet shell that the Buffalo Bills' Mark Kelso used the wear?
Amahl: The Gazoo was never brought to the mainstream market, which speaks to its effectiveness. Most products that attach to the exterior of helmets are modeled after boxing head gear. From that perspective, players are still receiving a muffled version of helmet strikes. Those products are made of foam and absorb impacts without dispersing the forces. The HTIS distributes forces cylindrically and longitudinally.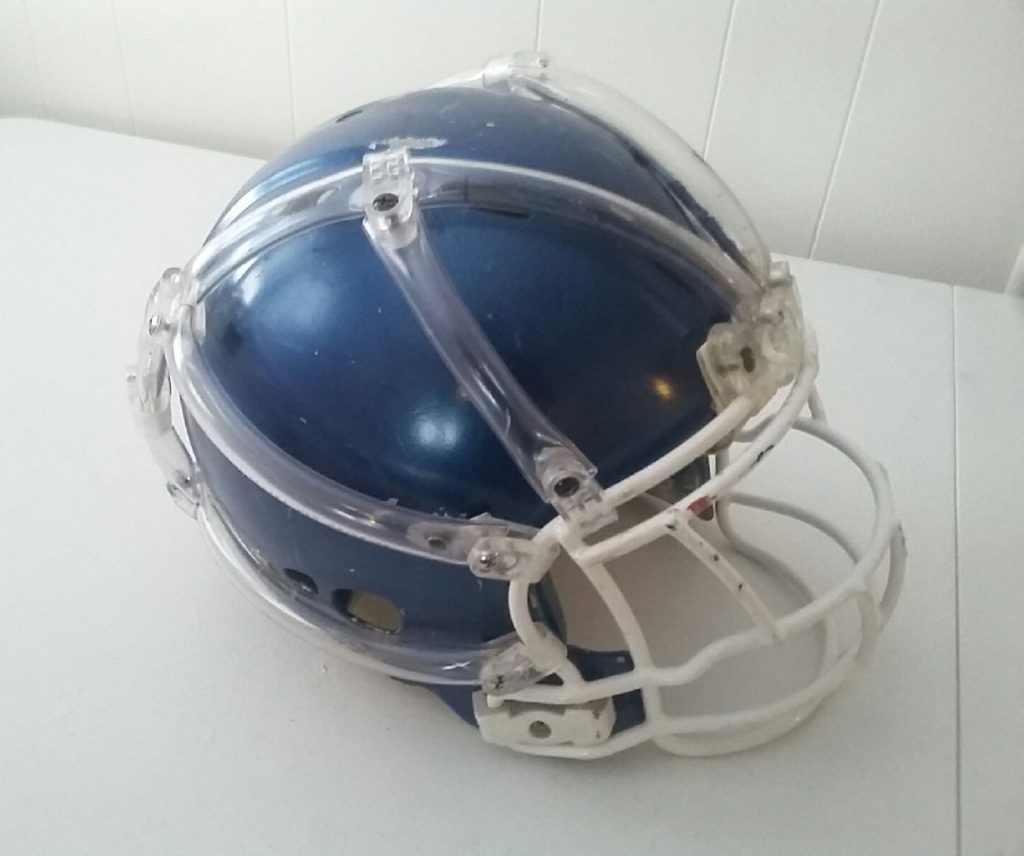 Anwar: We see a lot of head and brain-related injuries in American football. Is your new system designed to prevent paralysis? Concussions? Chronic Traumatic Encephalopathy (CTE)?
Amahl: Those conditioned athletes won't escape the wear & tear of American Football. The HTIS will lower the amount force in head impacts over years of practice and play for players. Specialists in those fields have found that the repetitive and cumulative number of impacts is what hurts players over the long-term.
Anwar: Now I imagine at this point, you've legally protected your system, you're being very prudent in terms of whom you're sharing your data with. In terms of your initial findings for the HTIS, what have you found thus far in terms of its ability to mitigate the force of collisions? Which test have you used to generate your data?
Amahl: As of now I do have a patent on the HTIS. I used the "Weighted Swing Test". This test shows that the HTIS lowers impacts forces by an average of 70 – 73%. Again, the force of helmet strikes is distributed over the soft, cylindrical, hollow, plastic surface area of the tubes. The HTIS is designed to divide the linear and rotational transfer of impact forces.
Anwar: What are your plans for this going forward?
Amahl: In the near future, I'm looking to form an LLC for production and sales of the product to individual customers, teams, and leagues. I'm open to licensing or selling the patent, if a fair offer is presented.
Anwar: If anyone wants to directly reach out to you regarding the HTIS, what's the best way for them to contact you?
Amahl: If anyone would like to contact me for sales or to purchase the patent, contact me at amahldunbar@gmail.com
Anwar: Well thank you, Amahl, for sharing your exciting project. Do you have any other comment?
Amahl: Yes. The HTIS has the best chance for success of them all.
To find out more about how to draft and file your own patent application, Patent Hacks has its own free online resources. Find out key information about patent and intellectual property, and gain the knowledge you need to patent your own inventions.
Thank you for taking the time to read this interview. If you've found value here and think it will benefit others, please share it and/or leave a comment. Please visit my new YouTube channel entitled, Big Discussions76. To receive all the most up to date content from the Big Words Blog Site, subscribe using the subscription box in the right-hand column in this post and throughout the site, or add the link to my RSS feed to your feedreader. Lastly, follow me on the Big Words Blog Site Facebook page, on Twitter at @BWArePowerful, and on Instagram at @anwaryusef76. While my main areas of focus are Education, STEM and Financial Literacy, there are other blogs/sites I endorse which can be found on that particular page of my site.