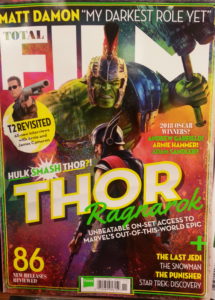 While my blog has distinct areas of focus and associated principles, I like to leave room for movie reviews. As stated in my bio, I have a love for Science Fiction and Super Hero movies going back to childhood. While I normally team up with my brother Amahl as we recently did for Blade Runner 2049, I'm going to tackle Thor: Ragnarok on my own. This review will thus focus on the third installment of the Marvel Cinematic Universe's (MCU's) Thor series starring Chris Hemsworth, Tom Hiddleston, Mark Ruffalo, Kate Blanchett, Idris Elba, and Anthony Hopkins. Karl Urban also stars in it and Benedict Cumberbatch makes a cameo as well. As you might guess, Stan Lee also makes his usual appearance.
If there is one word I can use to describe Thor: Ragnarok, it would be humor. I have to admit that I only saw parts of Thor: The Dark World, and while it did stay true to its title in terms of darkness, Thor: Ragnarok goes completely in the other direction in terms of laughs – a hallmark of the MCU's productions particularly when Robert Downey Jr.'s Tony Stark/Iron Man is involved. In both Avengers movies Tony Stark and Bruce Banner form a comedic duo, and thus Mark Ruffalo's Bruce Banner/The Hulk lends several laughs to Thor: Ragnarok, in addition to the main character himself. Speaking of the Hulk, I really enjoy backstories and answers to previously unanswered questions. Thor: Ragnarok gives us an idea of what happened to Bruce Banner/The Hulk when he fled from Sokovia towards the end of Avengers: Age of Ultron hoping to disappear back into anonymity.
As per usual, the Thor movies are otherworldly and more fantasy-like. Thor: Ragnarok gives Thor and the Hulk their own movie who were the two Avengers coincidentally mentioned but absent in Captain America: Civil War. This version of the Hulk is more in control and self-aware readily having discussions with Thor, and it's even speculated that he now knows how to maintain his form over his Bruce Banner half. Without spoiling the film, the movie starts with Thor defeating Surtur who vows to unleash something called "Ragnarok" on Asgard. After defeating Surtur and foiling another one of Loki's schemes, Thor and Loki are led to their father Odin coincidentally by Dr. Strange before both of them are initially defeated by Hela and displaced through space time to the world of the "Grandmaster" who is portrayed by Jeff Goldblum. Hela is too powerful for either Thor or his brother Loki. I've long been a fan of Kate Blanchett's since the Lord of the Rings series and she wears her dark colors and fitted leather outfits quite well in this film.
"YEEEESSS. We know each other. He's a friend from work," Thor happily says in the trailer themed by Ledd Zepplin's "Immigrant Song" (now in my head).  Thor and the Hulk humorously re-unite on the planet of the Grandmaster who collects fighters and makes them battle to the death for sport. Thor who has "lost" his hammer "Mjölnir", ultimately teams up with Bruce Banner/Hulk, and Valkyrie portrayed by Tessa Thompson and returns to Asgard to attempt to take it back from Hela with the aid of Heimdall who has prevented her from using the "Bifrost" to take over the other realms.
What is the significance of the name "Ragnarok"? Well let's just say that it impacts the end of the story and pretty much changes Thor's story world going forward. Thor ends this movie a changed god. While there is humor throughout it, the protagonist is forever altered both mentally and in terms of his physical being. Thor: Ragnorak is a very entertaining film which has been said by many to be the best of the series which has also been said to be the weakest franchise in the MCU. Next up from the MCU is The Black Panther which is gaining more and more steam in terms of excitement and anticipation. Ultimately though I'm looking forward to the Avengers: Infinity War when all of the heroes will be back on the screen together fighting their most formidable foe yet.
Thank you for taking the time to read this review. The next review on my blog will most likely be the Justice League. If you enjoyed this one, you may also enjoy:
• A review of Bladerunner 2049
• A review of Marvel's Spider-Man: Homecoming
• A review of All Eyez on Me
• A review of Rogue One: A Star Wars Story
• A review of Hidden Figures
• A review of Marvel's Dr. Strange
Please visit my YouTube channel entitled, Big Discussions76. My Twitter and Instagram handles are @BWArePowerful and @anwaryusef76.  You can also follow me at the Big Words Blog Site Facebook page. If you enjoyed this review, please do click the like button, leave comments, and share it. If you've found value here and think it would benefit others, please share it and/or leave a comment. To receive all of the most up to date content from the Big Words Blog Site, subscribe using the subscription box in the right-hand column in this post and throughout the site or add the link to my RSS feed to your feedreader. While my main areas of focus are Education, STEM and Financial Literacy, there are other blogs/sites I endorse which can be found on that particular page of my site.