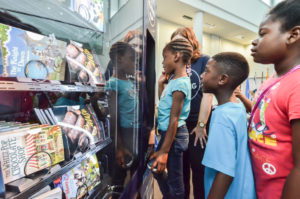 Earlier this year I was granted a second interview with JetBlue regarding its book vending machine program.    JetBlue piloted the program and an associated study in southeast Washington DC seeking to determine whether or not making books more readily available to neighborhoods like Anacostia would increase the reading skills of children living there.  The following interview with Icema Gibbs of JetBlue was previously unpublished as it was conducted and finalized just before the Examiner shut down its operations.  At the time of the interview, Jet Blue was embarking on the second year of the vending machine study (see part one) in addition to expanding it into other cities such as Detroit.
During the summer of 2015, JetBlue and Random House partnered together on a study as part of the airline's "Soar with Reading" Campaign.  The study looked at whether or not increasing the availability of books to residents in "Book Deserts" could reverse the low reading levels and perceived lack of interest in reading typically associated with lower income neighborhoods.  On June 9, 2016, Jet Blue granted interviews to discuss the initial results from the Book Vending Machine study with Dr. Susan Neuman who has conducted extensive research on 'Book Deserts' across America, and Icema Gibbs, JetBlue's Director of Corporate Responsibility.  In part one, Susan Neuman discussed the initial findings of the program.  In part two, Icema Gibbs also discusses the study findings in addition to Jet Blue's plans to expand the Soar with Reading Program into Detroit, MI.
Anwar Dunbar:  Hello, Icema.  It's really good to talk with you again.  I asked Susan a bunch of questions, but I have one main question for you.  Is it true that you all are expanding 'Soar with Reading' into other markets?
Icema Gibbs:  You know all things equal, I think it would be our objective to expand as much as we can, but we just don't have the budget to make it a year round program or to expand it beyond one city at a time.  Right now, we are going back to Anacostia with the vending machine component; our most successful location.  As you discussed with Susan, this time we're testing the outcomes of the children, and we're going to do that at a "Counterfactual" site and at the church, and really do a deep dive into trying to figure how what we're doing makes an impact on the education of the child; their vocabulary and so forth.  We're not abandoning the city we were in initially, but we're spreading the program this year based on customer and crew member feedback to a new city, Detroit, where they will have an abundance of vending machines.
We'll be there starting in July.  At the end of June, we're having the kick-off celebration in Detroit and we will be in five locations there.
AD:  I asked Susan about which books were in the vending machines in Anacostia, and she said that you all were very particular about putting books with African American characters in the machines in terms of content and on the covers.
IG:  That's absolutely a goal.  We worked with Random House to help us with this initiative so we're using their roster of books.  Yes, we did consciously try to put as many books with children of color on the covers because you might have a diverse group of characters in the book, but if you don't see it on the cover you might not know that.  We thought it was important for the kids to be able to see everybody that looks like them on the cover of the books, even more so this year.
AD:  With these being Random House books, do you have some of the titles handy?  I know Jack and Annie from the Magic Treehouse aren't African American (laughing).
IG:  Sure.  No they aren't African American, but they were very recognizable pictures in the airports.  And it has really helped people become more aware of the program because kids had a chance to see Jack and Annie, characters they are very familiar with.
So I don't know if you know how we operated the vending machines, but we changed them every two weeks.  The host has to be really on top of what's going on and continue to rotate the books regularly.  There are also different age groups.  Examples of titles for age four to five included:
So we have quite a few diverse titles which reflect diverse characters.  Christopher Grant is one of our writers and he wrote 'Taking Flight'.  We have quite a few books that will speak to all demographics.
AD:  And these are all published by Random House?
IG:  Yes.
AD:  Susan talked about there being a lot of blaming the parents regarding the child's reading level.  Her interpretation of the data generated is that making the books available is a major component to a child's learning to read in lower income areas.
IG:  The reason that we wanted to form an Education Advisory Board is because we fly planes really well, and in terms of customer service, we're probably the best in the business.  We do great things with our customers and we treat our crew members really well.  We don't profess to be educational experts however.  We know what we read in the papers, but we convened an advisory board with Susan, who is really leading that charge, because we needed to understand some of the myths and what to look for.  We knew that parents wanted good things for their children.  You kind of know that regardless of wherever you are.  We knew that given an opportunity people would enjoy having free books.
Now when we talk about Anacostia and the lessons learned, it's clear to me that people didn't believe the books were free.  We had to put out signs that said, 'Free Books', because families thought there was a catch to it.  Parents were interested in getting books for their children and they were interested in reading with their children.  They were very interested in helping their children create libraries.  Thus, some of the stereotypes that you may have heard or read were dispelled by our study.  We did not see a parent who said, "No, I don't want to you to read, don't take a book," or, "Reading is not important."
We heard the comments of people standing in line.  We saw the parents going into the grocery stores who might have been going in to get some milk and said, "We don't have time on the way in, but let's stop on the way out."  There were just so many people interested in obtaining books and in that geographic area, there were no books for them to purchase.  So for us to have been able to give out the books that we did through the vending machines really said that people were interested.
AD:  Yes, that's definitely an important myth to dispel.  Susan and I discussed this – you all are of the opinion that the store proprietors should take on a leadership role in terms of stocking more books, but are there also roles for our elected officials and government?
IG:  I don't know that there is a message here for our lawmakers and elected officials.  More so, I think that we have to look at offering opportunities and I don't know if that stands with the lawmakers.  So it goes back to, "I own a business.  I care about my community.  Can I see if I can get some discounted books to put in my store?"  How do you make that happen?  When we first started this program with the vending machines, you were talking to some of your peers and the pushback we got so adamantly from one young lady was that there are libraries and that this is not necessary because there are libraries.  We talked with her a little bit further and expressed that we love the libraries.  We're not competing with the libraries, but at the end of the day you give the book back at a library and these are books to keep.  Children who have the books to keep have a tendency to read them over and over again and to read them to other people.
It helps children to continue to build their vocabulary and gives them a conversation point when they go to school, or over the summer when they see their friends, especially if they've picked up the same book.  We saw that in the church where the kids would say, "We love this book…," and finishing the sentences and just hearing about a book they had already read.  We were pleased with all of those types of situations that happened during the course of our time in Anacostia.
We're not saying that during this election year there needs to be books in every retail outlet, but we want community leaders to stand up and say, "We need books in our community."  We want churches and educators to talk to proprietors and tell them that we need books and they need to be reasonably priced.  They can't be so high priced that you can't afford them.  Everyone has smart phones and smart devices, and that's also a way to get books, but they're also relatively expensive. So how do you get equal access for everybody?
We found that many people didn't have equal access to books, but when they did they enjoyed reading them and would come to get them.  When we sent out text messages people were able to opt into our program and we would text them that we were putting in new books and having reading sessions.  They would come to our locations and participate with us.  The parents were engaged in the education of their children, and they were engaged in taking books that they were able to choose.  It wasn't a handout.  The kids were especially excited about being able to pick a book that they wanted.  It was really interesting last year for us – there was nothing better than seeing the light on the faces of the children who were able to select books and build their own library.
AD:  Another piece to this which goes beyond the scope of what we're talking about is who actually owns the stores in the neighborhoods we're discussing.
IG:  To be clear though, a business can be anything.  I think we first think of larger outlets, but if you are a barbershop or a hair salon, you could have books there as well.  You probably already have magazines and you can also invest in books as well, especially if the books are inexpensive.  If you can sell sunglasses you can also sell books.  So you're right about who might own the retail outlets, but in all of these communities we should have access to books.  One thing I took for granted is that in most communities if you go into $0.99 stores, you can buy books.  I thought all $0.99 stores were alike, but in some areas they sold books and others they didn't.
IG:  I have the locations where we'll be in Detroit.  Are you interested?
AD:  Yes.
IG:  We will be at the following locations: the Northwest Activities Center, the Samaritan Center, the Matrix Center, Patton Park, and Rosedale Park Baptist Church.
AD:  Okay, very good.  I'm sure they'll be very happy to have you guys there.  Do you have any closing comments?
IG:  We're very happy about 'Soar with Reading' this year and we hope you'll be able to come out and see it.
AD:  Okay, well if you let me know in advance, I can put it on the calendar.
A special thank you is extended to JetBlue for allowing me to capture their important effort and study.  If you liked part one of this interview, please share it, and leave any thoughts and comments below.