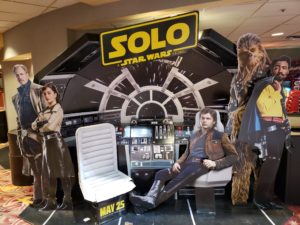 I've written and co-written numerous movie reviews on my blog, and I'm a firm believer in the power of movies to inspire an interest in the sciences as they did for me – particularly Science Fiction films. Growing up with the Star Wars franchise, and its original storyline and cast, I wanted to write a short review of latest installment of the franchise; Solo: A Star Wars Story directed by Ron Howard. This latest Star Wars adventure starred: Aden Ehrenriech, Donald Glover, Woody Harrelson, Emilia Clarke, and Paul Bettany. Thandi Newton also had a short role. Please be advised that if you haven't seen the movie yet, this may contain a spoiler or two.
Overall I was pleased with Solo: A Star Wars Story. Similar to Rogue One, I thought it delivered and stayed true to George Lucas's original ideas and creations. In my opinion, the new movies by Zach Snyder have gotten too far away from the original movies and the swashbuckling, action-adventures they're supposed to be. The Star Wars films are supposed to be balanced in terms of any serious themes and the overall adventure. The original trilogy for example showed us the growth of Luke Skywalker, and his transition to manhood from innocence with the guidance of two mentors; Obi-Wan Kenobi and Master Yoda. Along the way he learns who he really is, his family's legacy and whether or not to follow his father's dark path. It was simple and it worked – no social messages, no ideology or anything.
Solo was similar to Rogue One where the intent was to simply tell the back stories leading up to the original trilogy. I thought Aden Ehrenreich played a younger version of Harrison Ford's Han Solo pretty well, and I have no complaints there. The story showed us the origins of Han Solo as a young man, his love interest prior to Princess Leia, how he met up with Chewbacca, and finally how he became immersed in the life of a mercenary which he is mentored into by Woody Harrelson's character Beckett.
Going in I was really intrigued to see Donald Glover play Lando Calrissian who was originally played by Billy Dee Williams's starting in Episode V: The Empire Strikes Back. In Episode V, we initially weren't sure whether or not to trust the charismatic and suave Lando Calrissian as he seemed to betray: Han, Leia, Chewie and C3-P0, though he ultimately turned out to be an ally. We also heard in The Empire Strikes Back that Han won the Millennium Falcon from Lando through gambling. I was looking to get those stories filled in and they were. Solo: A Star Wars Story further showed us an earlier version of the Millennium Falcon and how the ship was modified in the original series. I won't give it away, but if you look at the original series, you can see subtle structural differences in the ship.
We also got some new stuff too such as Emilia Clarke's character Kira. I have to admit that I am a huge fan of Emilia Clarke from Game of Thrones. This might be a spoiler for some, but towards the end of the film, an additional thread was introduced where Kira seemed to have formed an alliance with what looked like Darth Maul from Star Wars Episode I: The Phantom Menace which was a little confusing to me continuity-wise as Darth Maul technically died before the creation of the Galactic Empire. The film also gives hints that Han and Chewbacca are going to eventually meet up with a certain gangster on the planet of Tatoine. I'll close by saying that I was surprised to see Paul Bettany's play a villain as I'm used to seeing him play Vision in Marvel's Avengers, and also that the special effects were very impressive – particularly the scenes where Han and his companions travel to and from the mining colony which is buried deep within the nebula whose name escapes me.
Thank you for taking the time to read this review. If you enjoyed this one, you may also enjoy:
• A review of Rogue One: A Star Wars Story
• A review of Marvel's Avengers Infinity War
• A review of Marvel's Black Panther
• A review of Marvel's Thor: Ragnarok
• A review of Marvel's Spider-Man: Homecoming
• A review of Marvel's Dr. Strange
• A review of DC's Justice League
• A review of Bladerunner 2049
If you enjoyed this review, please do click the like button, leave comments, and share it. If you've found value here and think it would benefit others, please share it and/or leave a comment. To receive all of the most up to date content from the Big Words Blog Site, subscribe using the subscription box in the right hand column in this post and throughout the site. My Twitter handle is @BWArePowerful, and you can also follow me at the Big Words Blog Site Facebook page, and on Instagram at @anwaryusef76. While my main areas of focus are Education, STEM and Financial Literacy, there are other blogs/sites I endorse which can be found on that particular page of my site.