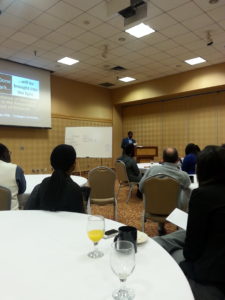 "Going forward, by 2050 we're going to have to double food production to feed the population – a tremendous responsibility. The biggest threat in my mind to that grand challenge is contamination to our water and our soil from various chemicals and toxins," said Dr. Patrick Halbur.  "We need people focused on that area to prevent and solve that problem, and so there are tremendous opportunities in Toxicology.
"We live in a world with infectious diseases and that's always a big threat, but we almost always figure out ways to eradicate them or develop a new vaccine to solve those diseases. But the grand challenges I think are in Toxicology."
From January 14-15, the Toxicology Mentoring and Skills Development Training Program (ToxMSDT) hosted its inaugural weekend at Iowa State University. The program was sponsored by the National Institutes of Health (NIH), Iowa State University, Tuskegee University, The Ohio State University, the Leadership and Mentoring Institute (AABHE), and the Interdepartmental Toxicology group (Tox).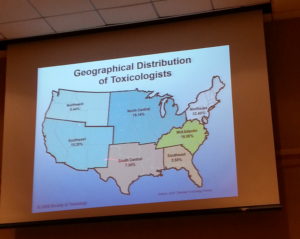 Just briefly, Toxicology is the science of characterizing the effects of poisons (toxicants) on living organisms. The ToxMSDT program itself entails pairing up mentors in the field of Toxicology from both the public and private sectors with students from Iowa State and Tuskegee Universities.  Mentors and mentees established contact prior to the weekend before meeting in person at the inaugural weekend.  The weekend consisted of full slate of talks and workshops including:
Welcomes by Lisa Nola (ISU College of Veterinary Medicine), Patrick Halbur (Chair, Veterinary Diagnostic and Production Animal Medicine), Richard J. Martin (Chair, Interdepartmental Toxicology), and Wilson Rumbeiha (ToxMSDT Program PI);
A keynote presentation: Career Choices for Toxicologists by mentor Robert Casillas, Ph.D., Vice President, Strategic Global Health Security, MRI Global and the Hispanic Organization of Toxicologists (HOT);
A training titled Developing a Mentoring Relationship that Works by Barbara Johnson, Ph.D., Director of the Leadership and Mentoring Institute, affiliated with the American Association of the Blacks in Higher Education;
A student poster competition and;
A Bioethics Talk titled What is Done in the Dark? By Deloris Alexander, Ph.D. of Tuskegee University.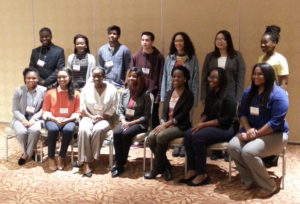 "Toxicologists are the guardians for human, animal and environmental health," said Dr. Wilson Rumbeiha, Professor of Toxicology at Iowa State University and Coordinator of the ToxMSDT program. The goal of the ToxMSDT program is to support educational activities that complement and/or enhance the training of a diverse workforce to meet the nation's biomedical, behavioral and clinical research needs.  While Toxicology is an essential component of the nation's biomedical research enterprise, there is a lack of under-represented minorities in the field where there coincidentally is a shortage of scientists in general – especially Doctors of Veterinary Medicine/Doctors of Philosophy (DVM/Ph.D.).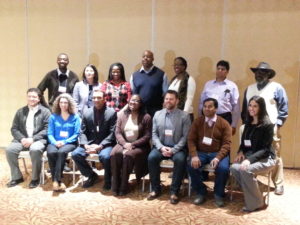 Toxicologists are in many places, and the field impacts many, many lives around the world. Toxicologists make the world a safer, healthier and more sustainable.  That's a message I want you to take as I proceed through my presentation," said Colonel and Dr. Richard Casillas, one of the mentors in the program.  Dr. Casillas's talk described his educational and career paths which led him from the world of academic research to the military, and then to the private sector.  A major theme of his talk was the career flexibility that his training in Toxicology afforded him.
To learn more about Toxicology and the ToxMSDT program, go to: http://www.toxmsdt.com/.
If you liked this article, please do share it, and leave comments.